Meet Dr. Thomas Steigerwalt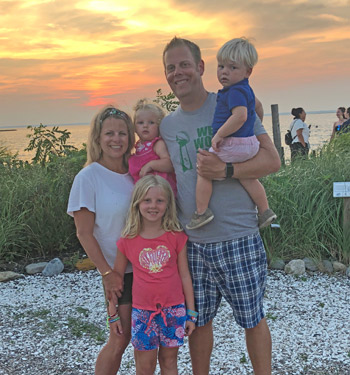 For more than a decade, Dr. Tom has provided modern, researched-based chiropractic care for families wishing to eliminate their pain and increase their vitality.
At Stags Family Wellness we welcome every member of the community, from newborn babies, children and moms-to-be to teenagers, adults and our senior population. We emphasize a gentle and customized approach to health care, with a particular emphasis on pediatric chiropractic and geriatrics.
The Dream of a Better Quality of Life
Dr. Tom always longed to be in a profession that could provide a better quality of life for those he cared about. He was first introduced to chiropractic while in high school. He suffered a low back injury and found that after only a couple of adjustments, he was back on the basketball court in record time.
As a college student Dr. Tom completed a field study with a local chiropractor. He watched as patients filed into the doctor's relaxing office, unhappy and in pain, and left with smiles and a better spring in their step. He knew that this was the profession he wanted to make his own.
A Thirst for Knowledge and Experience
Dr. Tom received his Bachelor of Science degree from Moravian College in Bethlehem, Pennsylvania. Four years later, he earned his Doctor of Chiropractic degree from Life University in Marietta, Georgia, graduating summa cum laude.
While still a student clinician, Dr. Tom enjoyed the first of many memorable experiences. He gained firsthand knowledge of the way that chiropractic care can assist the body in its self-healing capacity. He had a male AIDS patient come in regularly for adjustments. During his next round of blood testing, this young man's doctors were amazed that his T-cell count had risen substantially. This occurred in the absence of any therapy other than his chiropractic care.
As part of his dedication to helping others, Dr. Tom has additionally received certification as a neuropathy specialist by the Neuropathy Treatment Centers of America.
Outside the Office
When Dr. Tom has time off from the office, he enjoys spending time with his wife and family. He has three children: his daughter Sullivan, and his son Fitz and daughter Blair, who are twins. The family also lives with two canine friends, Phylly and Smokey, who were rescued from Love a Stray, an animal group that Dr. Tom supports.
During the week, Dr. Tom enjoys going to the gym, watching sports, listening to motivational audio recordings and reading inspirational books. He is also involved in the Avon Chamber of Commerce.
We would love to welcome you or your loved one as a new patient. Our Avon office has the tools and expertise to help family members of any age, and will always go the extra mile to ensure your satisfaction. We feature late hours and same-day appointments with on-site X-rays for your convenience. Contact us today for a free consultation!
---
Dr. Thomas Steigerwalt | Chiropractor Avon | (440) 934-2335